Master's degree in Global Marketing
Build your marketing vision out! This Master's degree will allow you to develop strategic and managerial skills, in order to analyze the consumer as the central axis of any action that benefits the growth of an organization in highly competitive environments.
What does a Master of Global Marketing do?
Lead marketing strategies and tactics.
Identify opportunities in global markets that offer competitive advantages to local industries.
Build competitive commercial opportunities through innovation models for products and services in global cultural contexts.
Assess viable financial models in the face of international expansion.
Analyze competence and its environment to promote strategic decision-making based on objective evidence and results.
What are the working areas of a Master of Global Marketing?
Integrated marketing communications.
Strategic projects in the brand, product, communication, and marketing.
Development and innovation of products and services.
Manage market research projects and studies within national and international consumer behavior.
Entrepreneurship and intrapreneurship.
*The tuition fee of the whole program depends on the number of academic credits enrolled by the student.
Academic credit fee is subject to annual increases determined by Universidad Ean and authorized by the Colombian Ministry of Education – MEN (by its initials in Spanish).
Degree Granted
Master of Global Marketing.
School
School of Online Studies.
Duration
Two years (4 semesters, 52 academic credits).
SNIES code: 104161, Res. nº. 532 of the Colombian Ministry of Education - 01/09/15, effective until 01/09/22. City: Bogotá D.C., Cundinamarca, Colombia, South America.
Program Director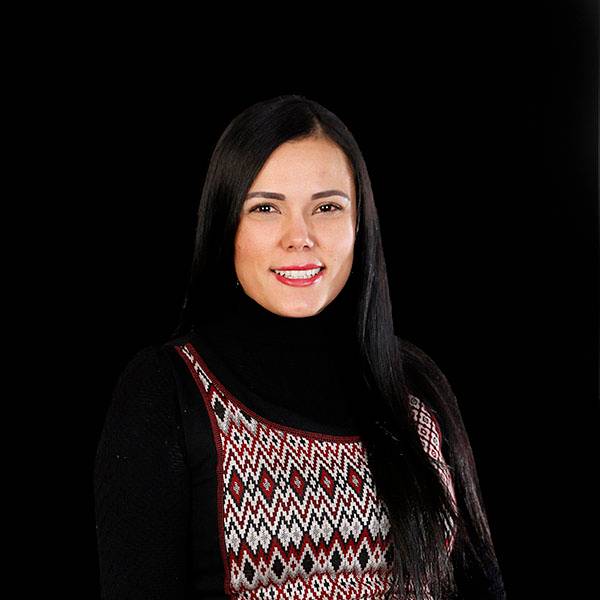 HAIDY JOHANNA
MORENO CEBALLOS
Curriculum
First Semester
12 credit hours
Core Courses
Consumption Anthropology

3

International Negotiation and Intercultural Protocols

3
Cross-Disciplinary Courses
Strategic Thinking and Global Management

3
Elective Courses
Electiva I

3
Second Semester
12 credit hours
Core Courses
Integral Logistics and International Commerce

3

Innovation of Products and Services

3

Development of Managerial Skills and Top Management Models

3
Cross-Disciplinary Courses
Initiative and Sustainable Entrepreneurship

3
Third Semester
12 credit hours
Core Courses
Methods, Techniques and Data Intelligence

3

Strategic Marketing Management

3

Business Ethics and Sustainability

3
Degree Requirement Courses
Research Seminar

3
Fourth Semester
16 credit hours
Core Courses
Digital Marketing and Strategic Communication

3

Financial Management Applied to Global Marketing

3
Degree Requirement Courses
Research Project

4
Elective Courses
Elective II

3

Elective III

3
Note: The program's opening is subject to a minimum number of students. Universidad Ean reserves the right to suspend or postpone the beginning of any program, depending on the response obtained from those interested in the call. Likewise, it reserves the right to make any change in the curriculum, methodological approach and faculty members.
The courses are going to be taught mostly in Spanish. Nevertheless, the academic activities may incorporate lectures and content in other languages. Therefore, it will be the student responsibility to achieve a whole understanding of them.
What do I need to study a virtual program?
Laptop with
Internet connection equal to or greater than 5MB
I2 Duo or Superior Processor
RAM 2GB or more
Hard Disk of 80GB or more
AMD Turion or higher
Operating system Windows 7 or higher, OS 10.6 or Linux Ubuntu 11.10
For your classes, you must have:
Webcam
Microphone and speaker headphones with microphone
Acrobat Reader, Flash Player, Shockwave Player, JAVA in its latest version
Word, Excel, and PowerPoint
Share